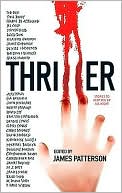 Featuring North America's foremost thriller authors, Thriller is the first collection of pure thriller stories ever published. Offering up heart-pumping tales of suspense in all its guises are thirty-two of the most critically acclaimed and award-winning names in the business. From the signature characters that made such authors as David Morrell and John Lescroart famous, to four of the hottest new voices in the genre, this blockbuster will tantalize and terrify.


International Thriller Writers Inc
represents professional authors from around the world. Learn more about them, their work, and the sources from which they draw their inspiration at the
Official ITW Organization Website
.
Interested in becoming a member of the International Thriller Writers? ITW offers
Active
and
Associate
memberships.